Grilled lobster, avocado and pink grapefruit salad
Grilled lobster, avocado and pink grapefruit salad
Prep time :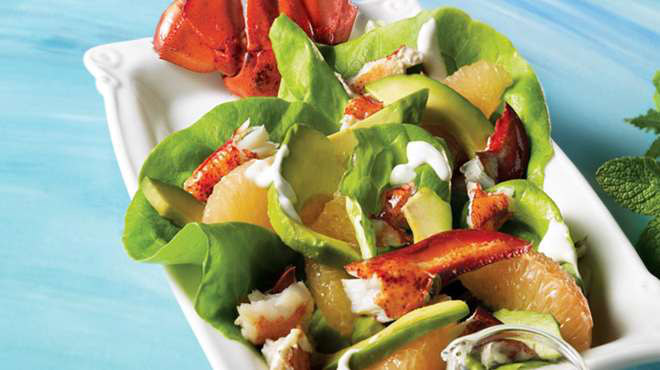 20 minutes
Total time :
From 30 to 60 minutes
Serves :
4 servings
Ingredients
30 mL (2 tbsp.) finely chopped fresh mint
10 mL (2 tsp.) grapefruit zest
30 mL (2 tbsp.) milk
45 mL (3 tbsp.) plain yogurt
60 mL (1/4 cup) mayo-style salad dressing
4 lobsters, about 500 g (1 lb) each (blanched in salted water for 5 minutes)
2 avocados , thinly sliced
2 pink grapefruits , cut into segments* and drained
1 L (4 cups) Boston lettuce leaves
Salt and pepper to taste
Preparation
Preheat barbecue to medium-high heat.
In a large bowl, gently combine grapefruit and avocado. Reserve. Cut lobsters in half lengthwise and break claws. Place half-lobsters (shell side down) and claws on a lightly oiled barbecue grill. Cook for 6 to 7 minutes, or until shells are very red, and lobster meat is opaque and pulls easily from the shell.
Cook claws 2 to 3 minutes per side. Remove meat from shells and claws; cut in coarse chunks. Add to grapefruit and avocado preparation, combining gently. In a bowl, blend salad dressing, plain yogurt, milk, grapefruit zest and mint. Reserve. Line four plates with lettuce leaves. Divide lobster salad among plates and spoon dressing on top. Season with salt and pepper to taste. Serve each portion with a chunk of crusty bread.
To remove grapefruit segments:

With a knife, cut peel off both ends of the grapefruit.
Place the fruit on one end and slice off remaining peel, including all the pith.
To remove the segments from the membrane, slide a knife blade along each grapefruit segment to cut it free.
Variation: Serve lobster salad as a sandwich, on soft bread such as a submarine.